Student Life
Cushing Cat Connection: Celebration Of Learning!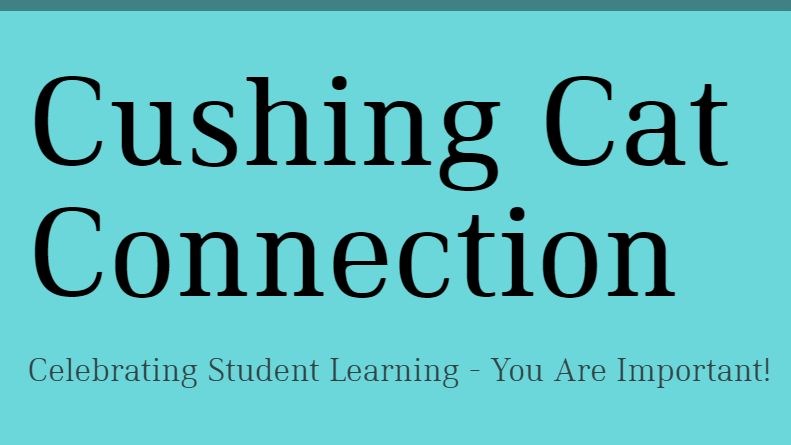 You Are Important!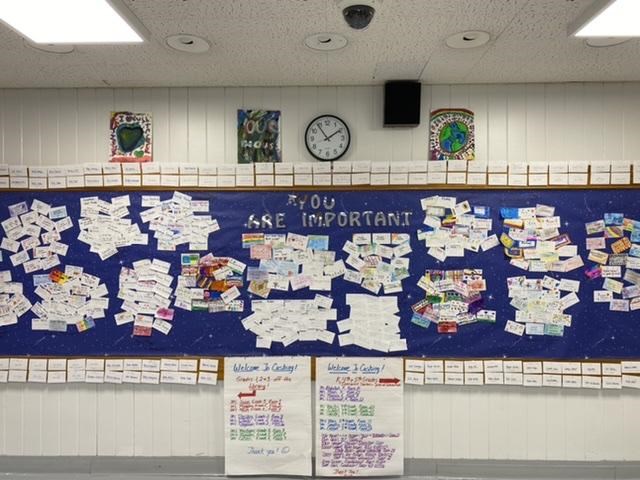 Celebrating our theme of "You Are Important" at Cushing, each student wrote a "Kindness Compliment Card" for another student in their classroom. Our mission: to spread kindness, promote Cushing team spirit and celebrate inclusiveness in our school! We are all together, and we are all important! Please check out our front lobby bulletin board when you visit Cat country!
We are now in the middle of our third week together at Cushing Elementary, and time is flying by! Thank you to all the parents and families who joined us on Wednesday evening, September 21st for our "Expectation Night!" It was wonderful to meet all of our Cushing parents, and thank you to our Cushing teachers and staff for delivering informative presentations!
We have been very busy at Cushing! I have had the pleasure of reading to many classrooms during the past couple of weeks - thank you to Ms. Abdallah, Mrs. Moon, Mrs. Monaco, Mr. Smith, Ms. Kamdar, Mr. Kidder, Mr. Cohen and Mrs. Mortimer for having me visit their classrooms to read to their students - this truly is a joy and a pleasure for me! Our teachers have been meeting throughout the week at all grade levels, during their collaborative "Common Planning" meetings - thank you Cushing teachers!
Our fourth graders experienced "Band Instrument Demonstration Day" in the Cushing cafeteria on Wednesday, September 14th! Thank you to Ms. DaSilva for organizing this special event for our fourth graders!
I have also been meeting with Cushing teachers throughout the week to discuss their professional goals for the 2022-23 school year - thank you Cushing teachers! A special Scituate "Shout Out" to our awesome PTO for purchasing new banners and Cushing flags, as well as new recess equipment, and a new rug for our front lobby - it is very appreciated! We are also very excited for our "This Is Our House" all school assembly on Friday morning, September 23rd at 9:00! We have artists, music and speeches that will be shared and delivered by members of our LIT team at Cushing! Great job one and all!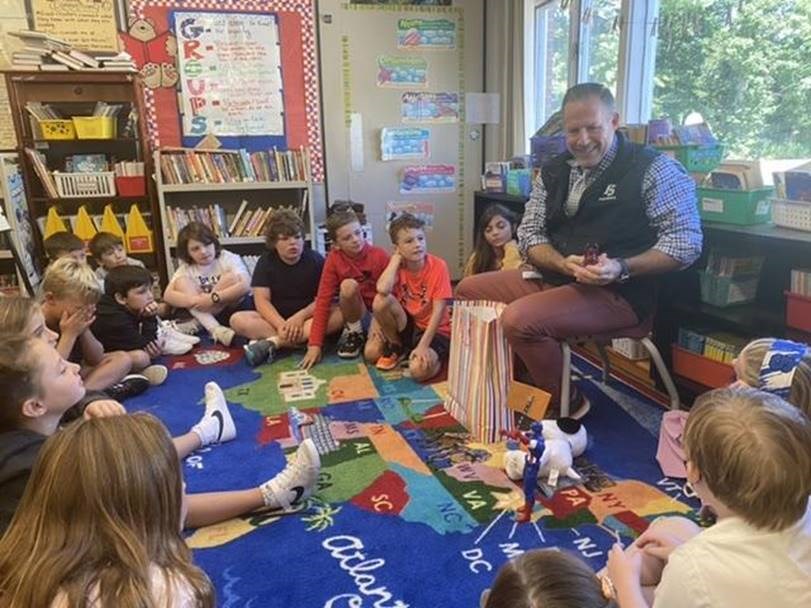 I enjoyed visiting Mr. Smith's fourth grade class to celebrate "My Life In a Bag!" It was great to share some objects from my office that mean a lot to me, and they were great hosts!
Looking ahead in September, we have our next Cushing staff meeting on Tuesday morning, September 27th at 7:45. I am meeting with the Cushing Data Team on Wednesday morning, September 28th at 8:00 AM. I am also meeting with the Cushing Instructional Leadership team on Thursday morning, September 29th at 8:00 AM. We have our first all school PBIS assembly (celebrating our famous "Cat Houses") on Friday, September 30th at 10:15. Our second graders will be transplanting kale in our outdoor gardens (working with Holly Hill Farm) during the week of September 26th! Our Scholastic Book Fair is being held at Cushing from October 3rd - October 7th; thank you to our PTO for organizing this at Cushing. Please join us for the Book Fair "Family Night" on Thursday, October 6th from 4:30 - 7:30. We also have early release on Thursday, October 6th at 12:35! The Cushing School Council will be meeting on Wednesday, October 5th at 6:00 PM, and The Cushing PTO will be meeting that evening at 7:00 PM.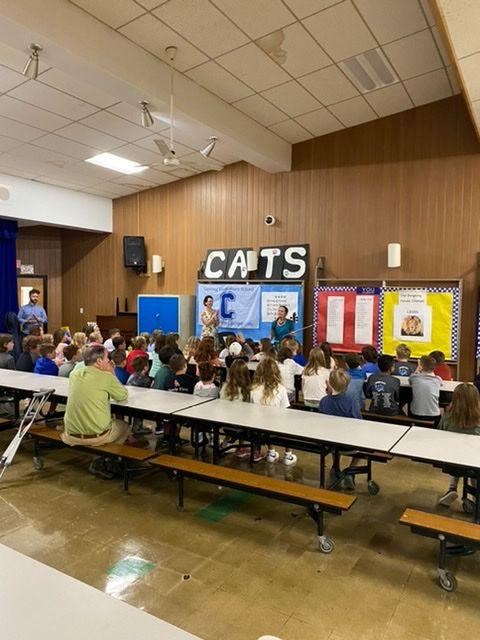 Fourth graders enjoyed "Instrument Demonstration Day" on September 14th - great job boys and girls!
Speaking of the Cushing PTO, here is an important update from our partners in education:
A thank you to the School Committee for budgeting clean up prior to the start of the school year and to Meghanne Quirk, Crystal Hoffman, and Valerie Hoffman for adding additional back to school décor which made all Cushing Cats feel excited for the start of the 2022-2023 school year. We also wanted to give a shout out to all the Cushing families who voted for Cushing school to win the South Shore Lawn Greetings Back to School Giveaway - what an amazing opportunity to highlight our school spirit.
The PTO is very much looking forward to the upcoming Cushing Fall Book Fair which will be running from Monday, October 3rd - Friday, October 7th. Students will be visiting the fair twice during the week. Once to complete a wish list and a second time to make purchases. The highlight of the Book Fair will be FAMILY NIGHT on Thursday October 6th from 4:30-7:30pm. We look forward to seeing many of our Cushing families there and want to remind you that all students who attend Family Night can enter the raffle to win $25 to spend on books of their choosing! The winner will be announced on Friday morning during the morning meeting.
Please note our first PTO meeting is Wednesday, October 5th at 7pm in the cafeteria. All are welcome to attend, we are always looking for extra helpers and fresh ideas! The plan is to keep the meeting limited to one hour as we know how precious everyone's time is. Looking forward to seeing everyone!
Thank you for your continued support as we have gotten off to a great start to the new school year at Cushing! Enjoy autumn in New England!
We hope to see you soon at Cushing! Mr. Williams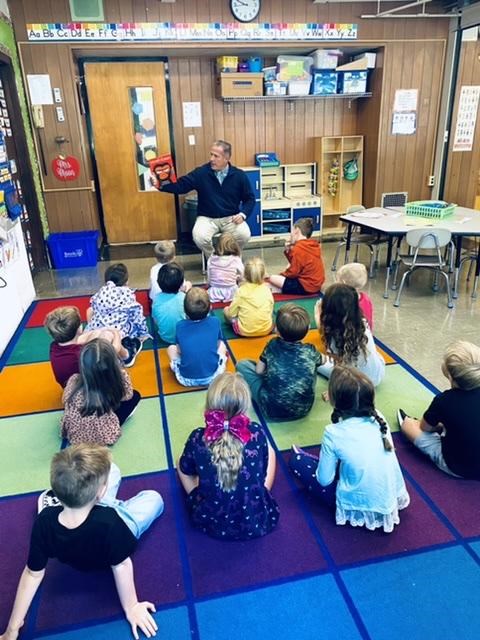 I loved reading "Grumpy Monkey" to Mrs. Moon's kindergarten class - thank you for hosting me boys and girls!