Student Life
Cushing Cat Connection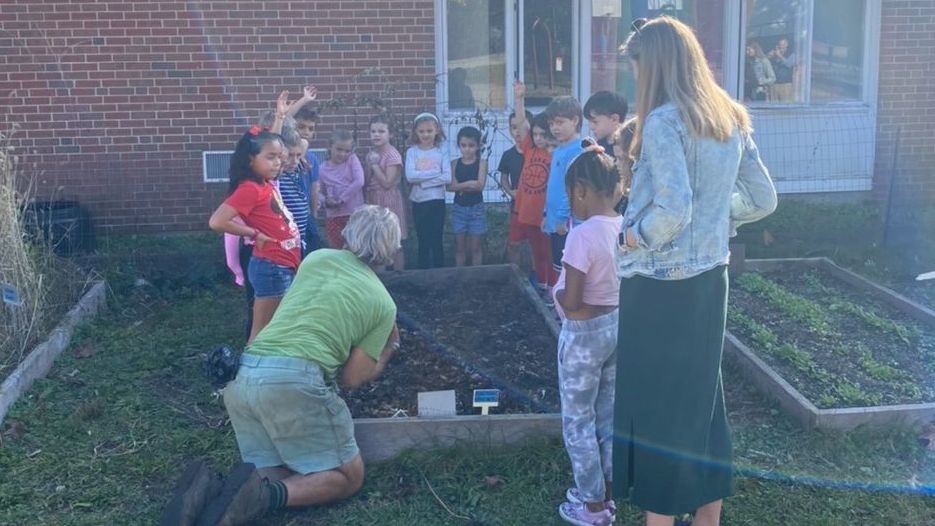 Caption: Ms. Dunn's first graders took full advantage of the warm temperatures on Monday morning, working with Jon Belber from Holly Hill Farm! Thank you Mr. Belber for working with our students in their garden beds!
I cannot believe how incredible the weather has been these past few days: 70's in New England? In November? We have been very lucky indeed! I hope everyone was able to vote on Election Day, Tuesday, November 8th (the Cushing staff attended all day professional development). We are all excited for the "Turkey Trot" (for Scituate fourth and fifth graders) on Wednesday afternoon, November 9th, from 4:30 - 6:00 under the lights at Flannery Field!
Speaking of excitement, Cushing Elementary is hosting veterans to join us for lunch on Thursday, November 10th! Thank you to the Cushing PTO for organizing and sponsoring this important event, and THANK YOU to our incredible service men and women! In honor of our veterans, we have no school on Friday, November 11th.
A reminder that Thanksgiving recess will begin on Wednesday, November 23rd, with Early Release at 11:25 (no lunch being served). We have no school on Thursday November 24th or Friday, November 25th.
For the most up-to-date information about our events, please see the Cushing Cats Calendar on our website or in the Scituate Public School's mobile app.
Important Note From Our District Nurse Leader
Dear Families,
We hope you are enjoying the beautiful fall weather we have been having! With fall and winter, unfortunately, comes the cold and flu season.
We would like to share this letter with suggestions for preventing respiratory illness that was shared with us by the Massachusetts School Health Unit. Please don't hesitate to reach out to your Family's Health Care Provider, Nurse Leader Kellie Bell, or your school nurse if you have any questions or would like more information.
Thank you everyone for your continued support - we hope to see you soon at Cushing!
Mr. Williams