Student Life
Cushing Cat Connection
Hello from Cat Country! November is almost halfway completed, and the time is simply flying by! We have been very busy at Cushing, enjoying the beautiful weather (70 degrees in November in New England?) Knowing that temperatures are dropping soon, we are very pleased to enjoy this time of year with warmer temperatures!
Congratulations Turkey Trot participants!

It was an amazing race on Wednesday, November 9th at Hatherly School. Thank you to Mr. Sawyer (and to all the physical education teachers) in Scituate for organizing and running this spectacular event! Here is an update from our Physical Education teacher, Mr. Sawyer:
The Scituate Elementary Turkey Trot took place on Wednesday, November 9 at Hatherly's Flannery Field. This is an inter-school, community-building FUN run event for 4th and 5th graders under the lights. This event has been in place since 1958 and was started by Mr. William Smith. Mr. Smith is Susan Marx's father, one of our 5th grade teachers here at Cushing. Mr. Smith was a Hall of Fame track coach and coached for Scituate High School, college and the Olympics. He started this event to get students interested in running.
There were races in which 4th graders ran three laps and 5th graders ran four laps around the sprawling grass field. Race winners for their heat earned a frozen turkey as their prize. Participants showed their community support by contributing canned goods to the Scituate Food Pantry. This special event was coordinated by SPS Elementary Health & Wellness faculty (Amy MacDonald, Mark Puzzangara, Rob Greene, Kevin Sawyer).A special thank you goes to Kate Martin for helping support the finish line efforts. Thank you to Mr. Williams, Mr. Kidder, and Mrs. Marx for cheering on our Cushing runners. The turnout and support from families, 4th and 5th-grade personnel, and all our elementary principals were amazing!
Cushing once again had the most participants among all 4 schools, with 48 overall runners! The 4th grade participants: Avery Anthony, Claire Smith, Kelvie Nylen, Alaynah Steverman, Campbell O'Connor, Claire Coffey, Nora Buckely, Samantha Pacheco, Victoria Frasu, Molly Mahoney, Cecilia Marino, Bridget Lemerande, Callan O'Brien, Julianna Ferrick, Finley Joyce, A.J James, Teddy Ringler, Thomas Mulvey, Leo Solomon, Luke Diab, Eli Minier, Jack Durkee, Dimitri Rozanitis, Brian Pattison, Tyler Dalton, Jack Bucchere, Daniel Kelleher, C.J. Tarantino, James Volpicelli, Henry McLarey, Will Knoff, Gates Esch, Owen Toohill, Henry Bucchere. The 5th grade participants: Meghan Woods, Lila Petit, Nola Kudlacik, Avery Whiting, Siennna Brady, Teegan Joyce, Kaelyn Steverman, Spencer Anthony, Henry Barnes, Johhny Cunningham, Tate Keenan, James Welch, Reid Forssell, Reece DeSimone.
Cushing shined bright with many top 3 finishers in each race.
4th Grade Girl's Race: 2. Kelvie Nylen 3. Finley Joyce
4th Grade Boy's Race: 1. Brian Pattison 2. A.J. James
5th Grade Girl's Race: 2. Kaelyn Steverman 3. Lila Petit
5th Grade Boy's Race: 1. Henry Barnes (back to back champion) 2. Reece DeSimon
COVID Testing Kits
Cushing School has COVID testing kits available for Cushing families on an as needed, first come, first served basis. Please reach out to our School Nurse, Linda Mardeusz (lmardeusz@scit.org) if you would like to receive a COVID home testing kit.
Veterans Day Lunch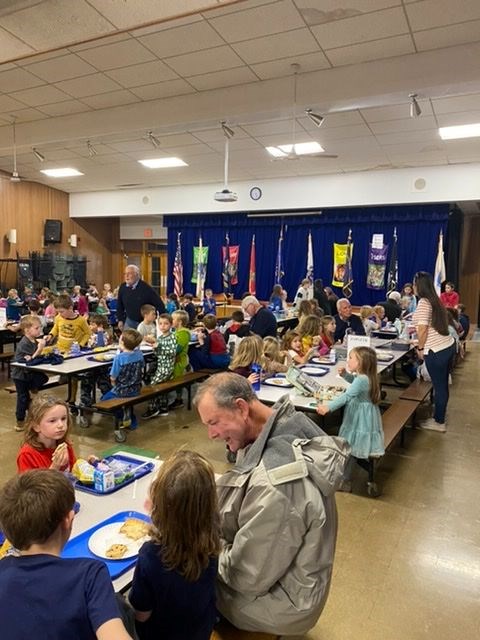 A very special Scituate "Shout Out" to Stephanie Holland and our Cushing PTO for organizing our spectacular Veterans Day Luncheon at Cushing on Thursday, November 10th. We had almost thirty veterans join us for lunch that day, dining with their child, grandchild, niece or nephew in honor of their service to our country! I am proud of the warm welcome our Cushing students extended to these heroes, giving them all a standing ovation as they entered the cafeteria! It was our honor to host these brave men and women, and we thank them for their service!
Our fifth graders experienced an incredible field trip on Wednesday, November 9th with the "North and South Rivers Watershed Association." Students were able to get "hands on" real experience with the environment, reflecting our fifth grade curriculum standards. Thank you to the NSRWA and to our fifth grade team (Mrs. Marx, Mr. Smalley, and Ms. Conrad) for organizing this special event at Cushing!
Third Cliff Field Trip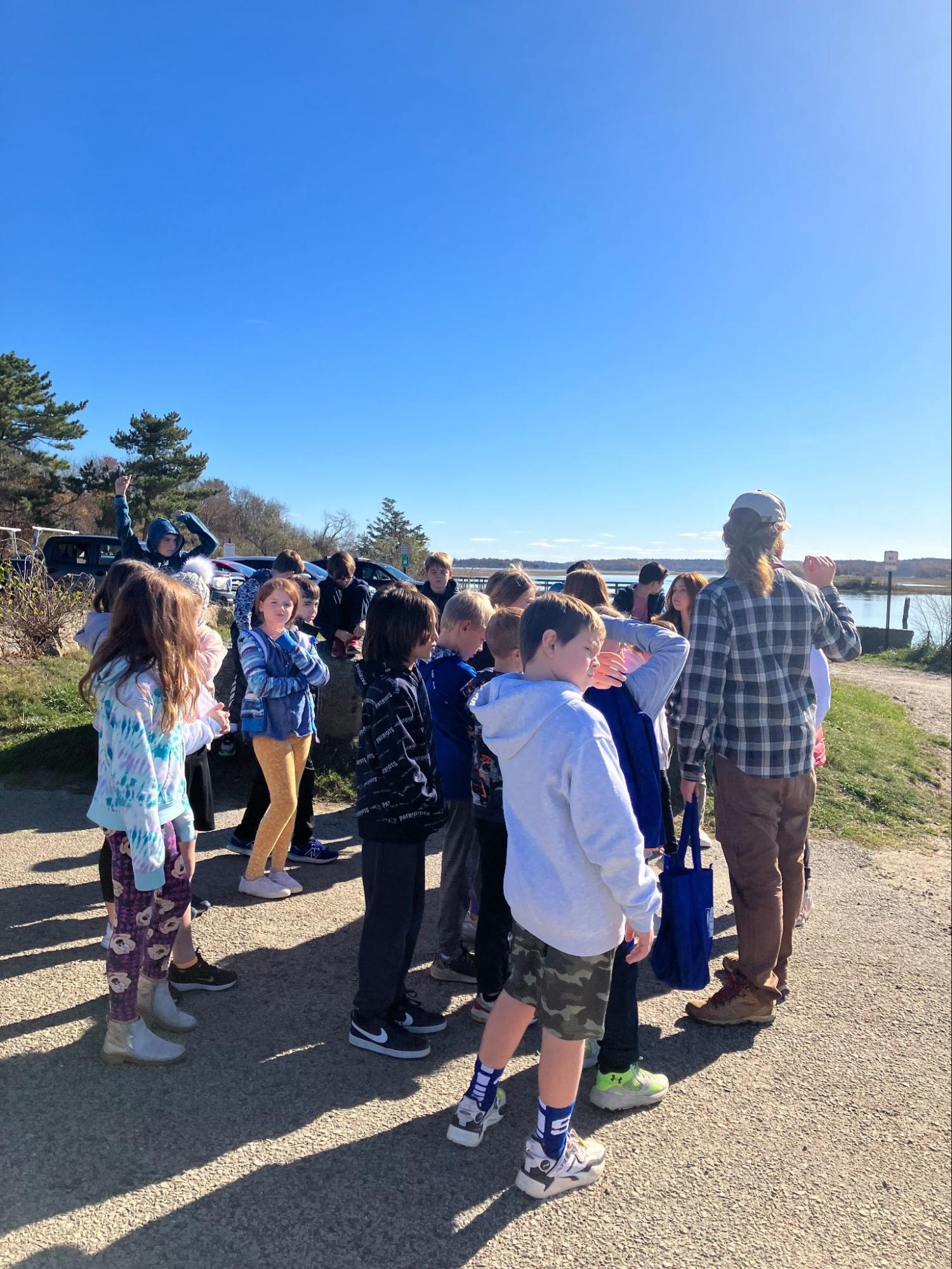 Speaking of authentic experiences, on Tuesday November 15th, our Cushing 4th graders participated in an amazing field trip to Third Cliff in Scituate! With the help of our amazing PTO, we were able to connect with the North and South River Watershed Association. Brian, our guide, led our students on a walk along the river side of the Spit. We saw habitats of different animals, learned about how crabs shed their exoskeleton, and even got to taste "sea pickles." For a special treat, there were about six seals swimming in the river! The classes completed a scavenger hunt along the ocean side of the Spit exploring the dunes and tide pools. All in all, we had a wonderful time! Thank you to the North and South Rivers Watershed Association for providing our fifth graders with an authentic environmental learning experience!
Cushing Clubs
Our Cushing Clubs are in full swing, meeting every week after school, as follows:
Lego Club, Tuesdays, 3:30 - 4:30
Clay Club, Wednesdays, 3:30 - 4:30
Homework Club, Wednesdays, 3:30 - 4:30
Crochet/Craft Club, Thursdays, 3:30 - 4:30
Our LIT team is up and running as well at Cushing! Over 50 Cushing students have been meeting on Wednesday mornings with Mr. Adams, Mrs. Kamdar and Mrs. Olivieri! THANK YOU to our awesome LIT team!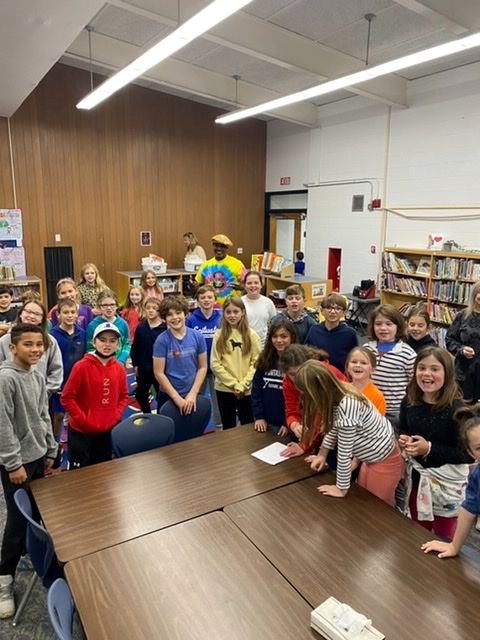 Upcoming Events
Here are some upcoming events for November and December at Cushing:
Kindergarten Field trip to the Safety Complex (Thursday, November 17th)
Nutcracker Performance, All School Assembly (Students and staff only) Tuesday, November 22nd
Thanksgiving recess: Wednesday, November 23rd, with Early Release at 11:25 (no lunch being served). No school on Thursday November 24th or Friday, November 25th.
Life Touch Picture Retakes: Monday, November 28th
Cushing Elementary Winter Concert (Grades 4 and 5): Tuesday, November 29th (Scituate Performing Arts Center) 6:30
Cushing Cat Community All School Assembly (students and staff only): Thursday, December 1st (afternoon)
Thursday, December 8th: Early Release at 12:35
Friday, December 9th: Report Cards for Term 1
Visit our Cushing Cats Calendar for the most up-to-date information.
I am VERY THANKFUL to be serving as the Cushing Elementary Principal for the 2022-23 school year! I wish every Cushing staff member, student and family a wonderful Thanksgiving holiday! I hope to see you soon at Cushing!
Mr. Williams