Student Life
The Jenkins Journal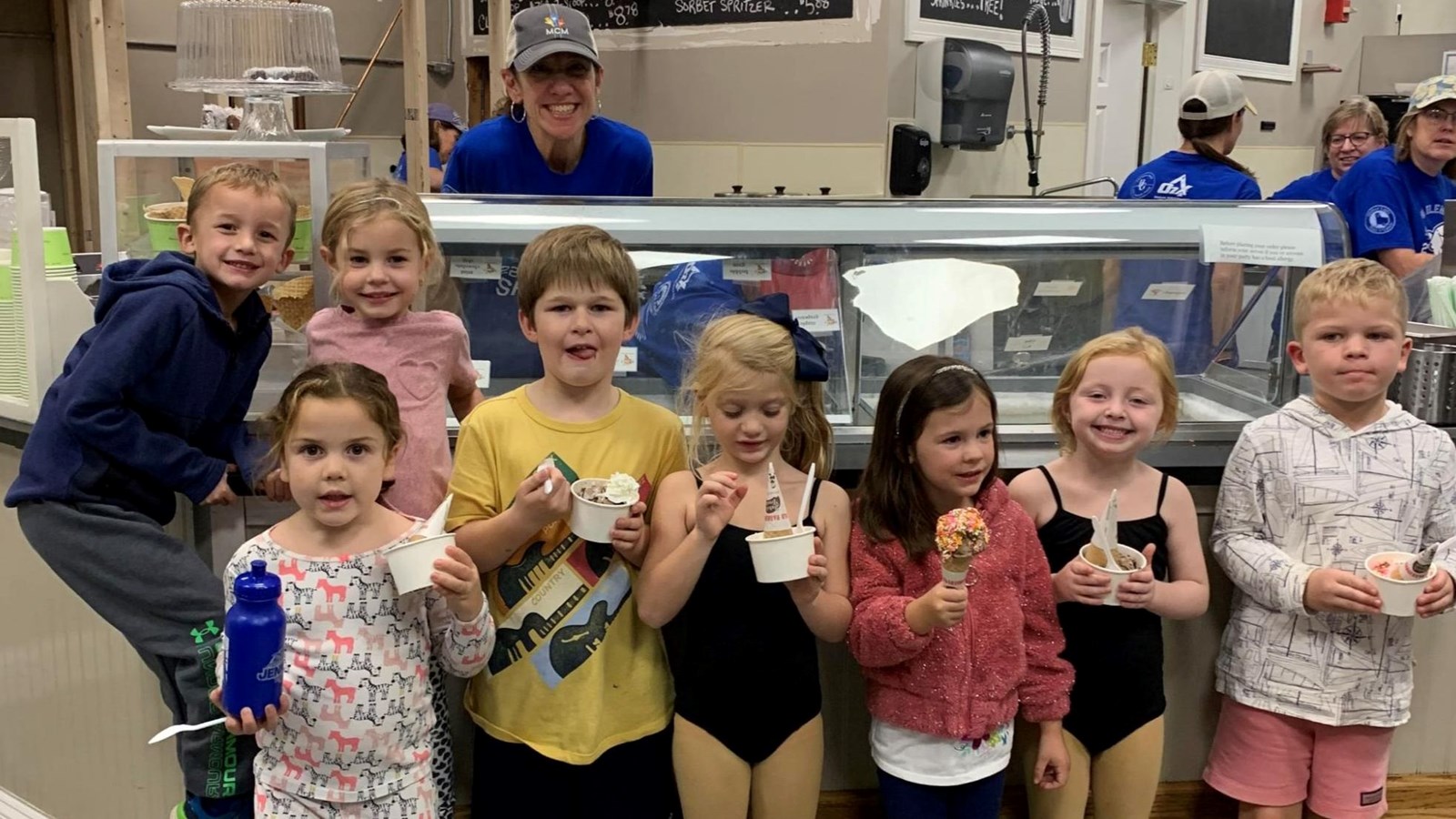 Caption: Some of our youngest sharks stopped by the Scoop-a-thon for a treat served by Mrs. Creehan kindergarten teacher.
Dear Jenkins Family,
Please join us this Sunday, November 20, from 1:00-3:00 for National Family Volunteer Day. We will be refreshing planters, gardens, and painting our seasonal signs for the front of our school. Thank you to PTO volunteers Erin Pendelton and Molly Walker for coordinating this family event to spiffy up our school grounds. Pizza will be available, and don't forget your reusable water bottle too.
On Monday, December 12, please join me for the first "Coffee with Mrs. Oldach" from 9:00 - 9:30am in the Jenkins Library. Parents and caregivers are welcome for this informal discussion about "What is PBIS?" Learn about our school's shark-themed incentives to encourage postive behavior choices and recognize the uniqueness of our students. Coffee and light refreshments will be served.
A reminder that this coming Wednesday, November 23, is a half day and dismissal is at 11:25am (dismissal is earlier than Early Release Days). No breakfast or lunch is served on half days.
The Jenkins staff wishes all of our families a wonderful, restful Thanksgiving holiday. We are grateful for your ongoing support of our school and the children's learning!
Most sincerely,
Mary Oldach, MEd
Principal
Nona's Scoop-a-thon Raises $1,380 for Jenkins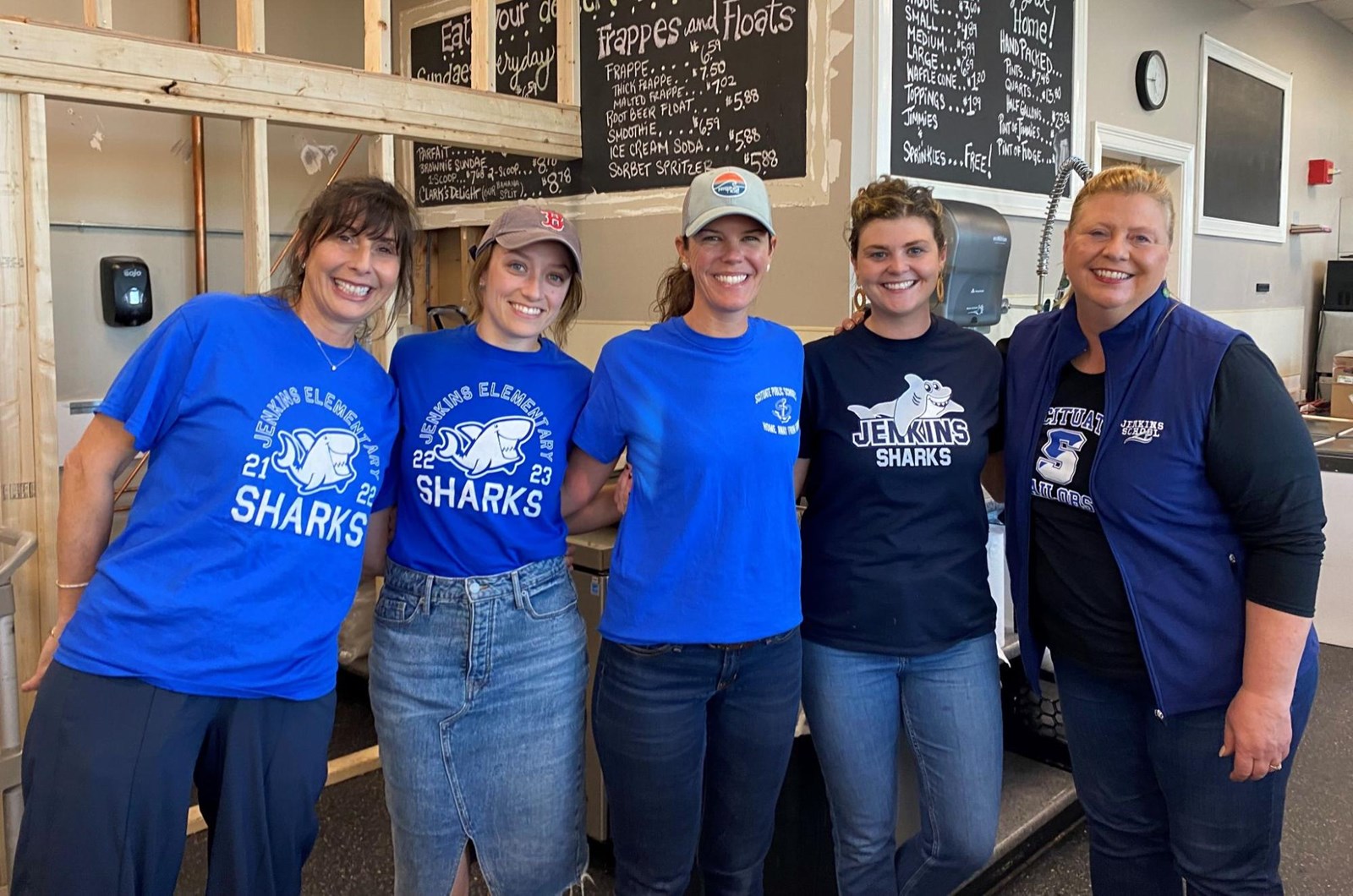 Twenty-eight Jenkins staff members scooped up the treats. Pictured here are Ms. McHugh, Ms. Amaan, Mrs. Semchenko, Ms. Woodford and Mrs. Oldach
Let's get "Twangled"!
Twangled is a game that builds teamwork! Andrew Bacarella, Drew DuBois, Owen Cote and James Coyle each spun the dial and then followed the directions to go under or over a specific color band to get all "twangled". Working together, they then had to untangle their bands without letting go.
… and the Frozen Turkey goes to …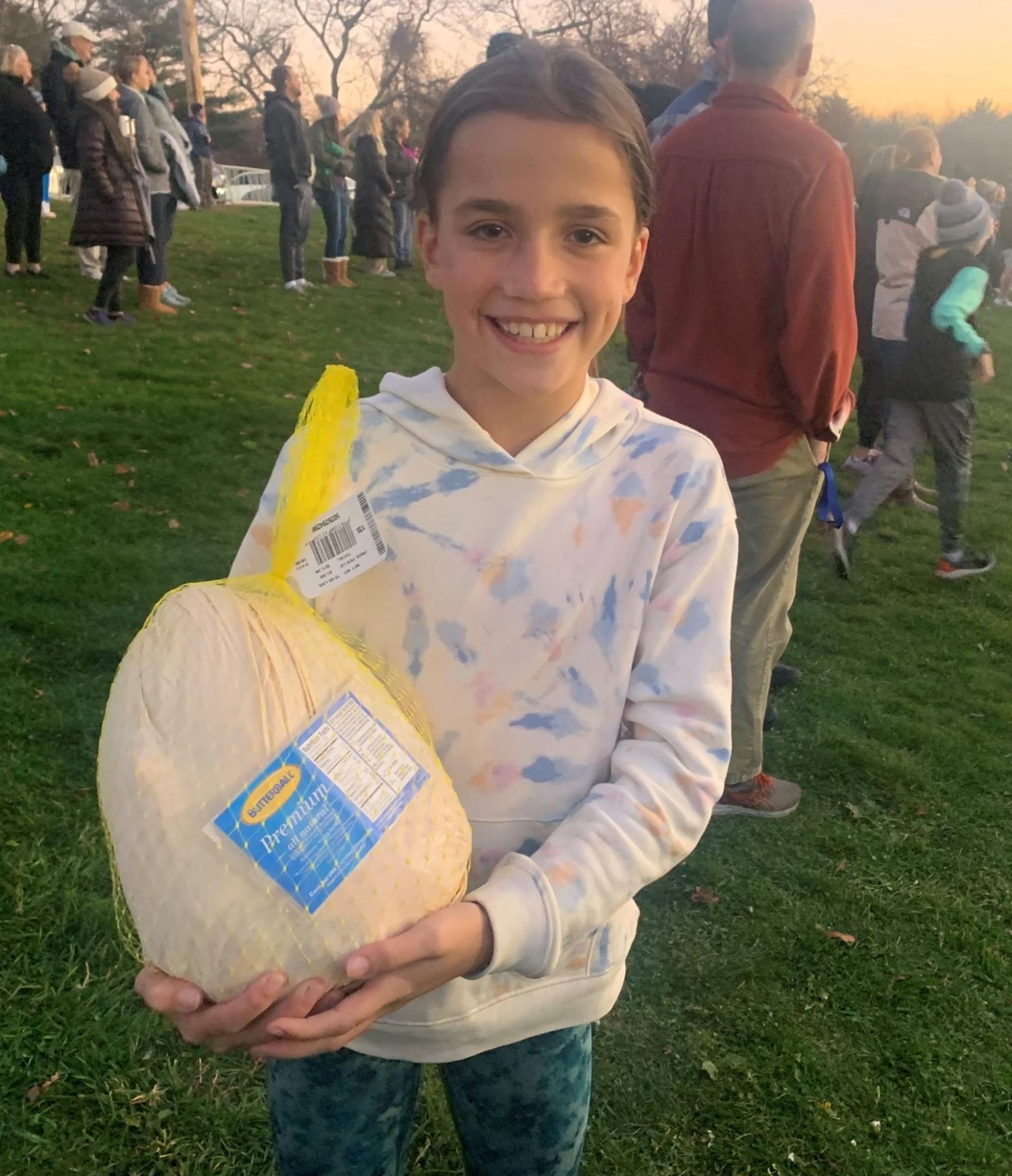 Congratulations to Stella Kropelnicki in Mrs. MacDonald's fourth-grade class! Stella won the girls' fourth grade Turkey Trot last week at Hatherly School.
The Scituate Elementary Turkey Trot is an inter-school, community-building FUN run event under the lights at Hatherly's Flannery Field that has been in place since 1958! There were races in which 4th graders ran three laps and 5th graders ran four laps around the sprawling grass field. Race winners for their heat earned a frozen turkey as their prize. Participants showed their community support by contributing canned goods to the Scituate Food Pantry. This special event was coordinated by SPS Elementary Health & Wellness faculty (Amy MacDonald, Mark Puzzangara, Rob Greene, Kevin Sawyer). A special thank yous to Kate Pescatore for coordinating the creative turkey wheelbarrow for donated canned goods and Kate Martin and Brynn Nyberg for supporting the finish line efforts. The turnout and support from families, 4th and 5th-grade personnel, and all our elementary principals were amazing!
The Nutcracker Comes to Jenkins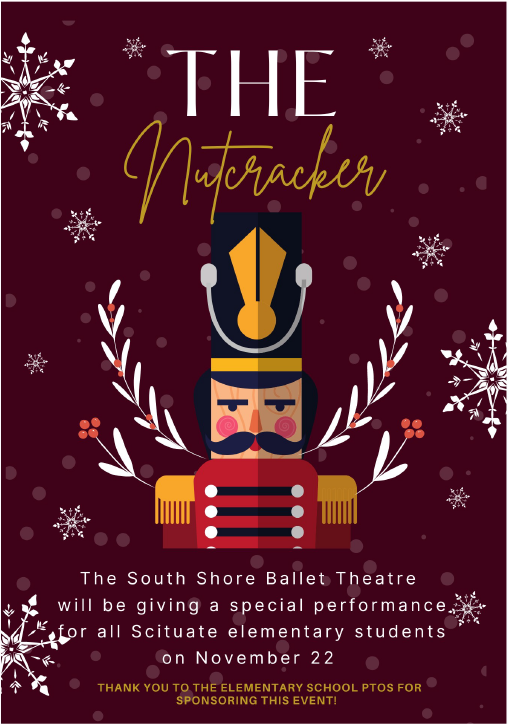 Thank you to the Scituate Elementary School PTOs for bringing the South Shore Ballet Theater to each of our elementary schools on Tuesday, November 22 for a special performance of the Nutcracker for all students to enjoy.
Upcoming Events
11/20 National Family Volunteer Day, Jenkins Style!
11/23 Half Day - Thanksgiving
11/24 - 11/25 No School - Thanksgiving
11/29 - 12/2 Scholastic Book Fair
12/1 Family Night at Scholastic Book Fair
12/6 JES PTO Meeting
12/6 Jenkins Winter Concert (Grades 4 and 5)
12/12 Coffee with Mrs Oldach
Check the Jenkins Calendar for all of the details and most up-to-date information!