Announcements
MSBA Cushing and Hatherly Building Project Update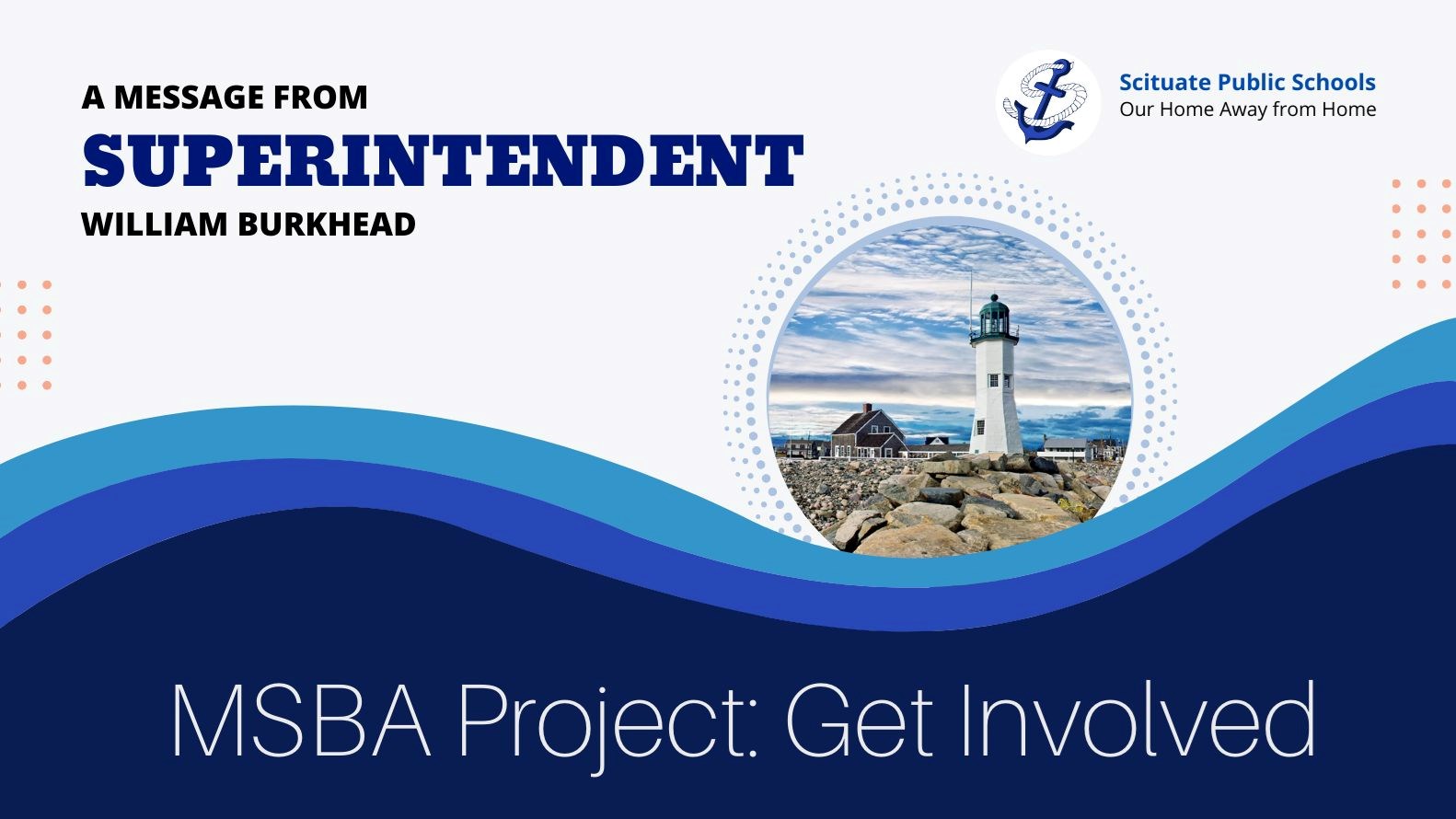 Massachusetts School Building Authority (MSBA) Cushing and Hatherly Building Project Update
As Scituate Public Schools continues with the next phase of the Cushing and Hatherly Building Project with the Massachusetts School Building Authority (MSBA) which includes the feasibility study and the schematic design, we would like to update you and request your participation. The quality of our design options will be directly impacted by the level of feedback and participation.
We are establishing a district based educational workgroup to continue the work of the initial Visioning Team that proposed this project in 2019. Much like the strategic planning process, we will be mapping out what will drive our students' educational experiences that will guide long-term development of both education and facilities for the Scituate Public Schools. A culture of excellence & collaboration are the foundational pillars as this workgroup:
Articulates the vision for the future of education in Scituate
Establishes a big picture plan relative to student learning and building space
Communicates needs for customized learning spaces to support all learners
We are seeking educators, parents & students for our educational workgroup.
The educational workgroup will be composed of approximately 30 people from various groups within Scituate: educators, administrators, school committee members, parents, and students. To be considered as a representative on this workgroup:
Educators should notify the Scituate Teachers' Association leadership
Parents should reach out to their PTO/SHORE leadership
High School and Middle School Students should reach out to their principal
Members of the educational workgroup must be able to commit to the following schedule:
February 13, 2023 - 4pm - 6pm
March 7, 2023 - 4pm - 6pm
March 9, 2023 - 4pm - 6pm
Learn more
Cushing and Hatherly MSBA Project
On the SPS District website you will find information about this project's history, current process and timeline. School Building Committee meeting presentations and videos will be shared as well as other project-related resources. > Link to Page
District Newsfeed and Calendar
Keep an eye on the SPS newsfeed and calendar for updates and opportunities for community participation and input. > Link to Newsfeed > Link to Calendar
For more information about this process please do not hesitate to contact: