Announcements
Cushing Cat Connection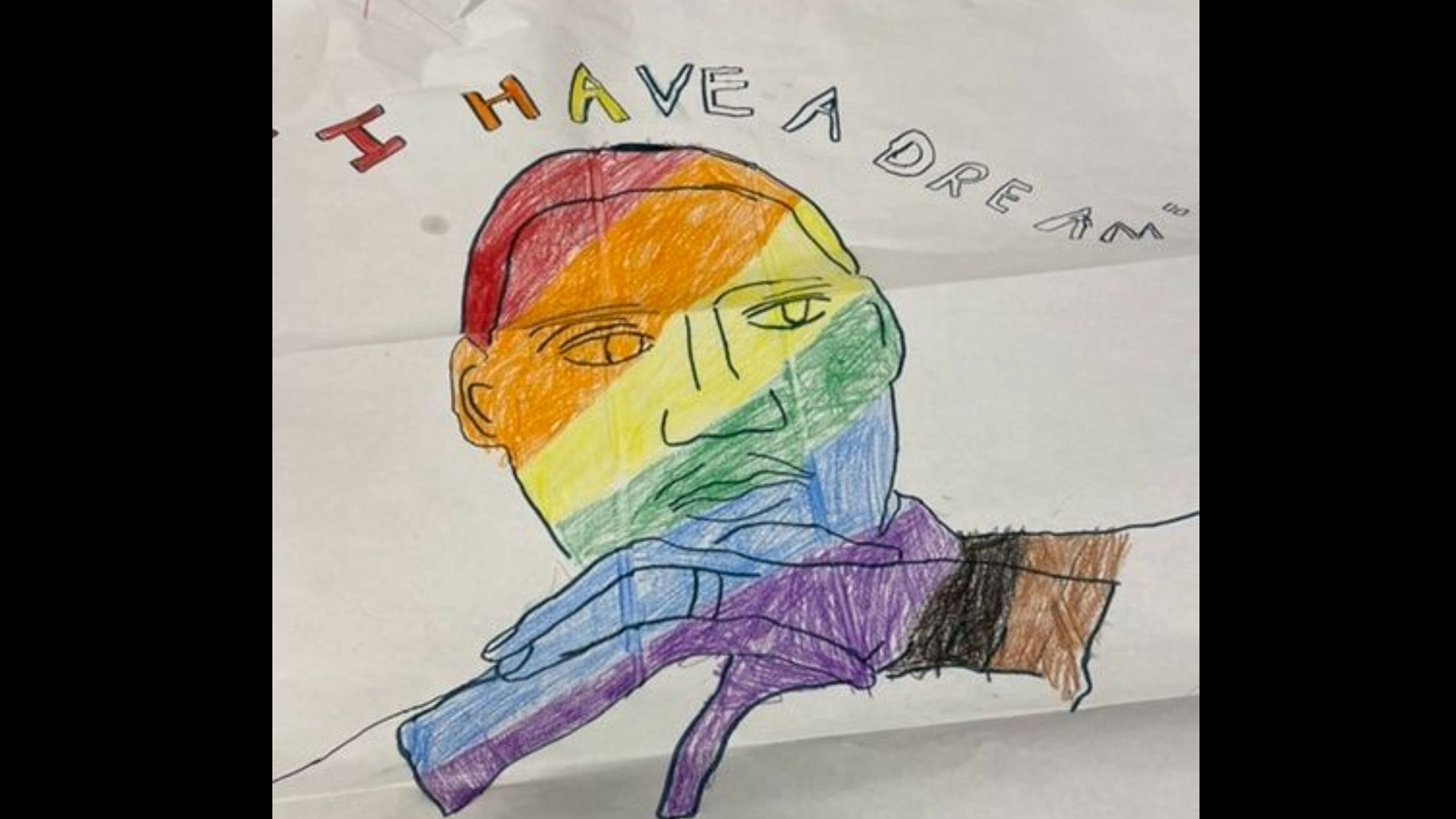 Thank you to Mrs. Kamdar's third graders and to Mrs. Monaco's Kindergarten students, who partnered with members of the Cushing LIT (Love, Inclusion and Trust) team! They created this incredible poster in celebration of Dr. Martin Luther King Jr. Day on Monday, January 16th!
January is in full swing at Cushing! The winter months are upon us (although we haven't had any snow accumulation thus far)! To combat the winter doldrums, Cushing will be sponsoring Spirit Days every Friday throughout the months of January and February, as follows:
Friday, January 20th: Crazy Hat Day - wear your favorite hat to school!
Friday, January 27th: Dress Up As A Cushing Staff Member Day - students are encouraged to dress up as their favorite Cushing staff member!
Friday, February 3rd: Mixed Match Socks/Shoes Day - wear socks and/or shoes that don't match!
Friday, February 10th: Twin/Triplet Day: Students can dress up in the same clothes to be "twins" or "triplets."
Friday, February 17th: Crazy Hair Day: Get out the hair gel and style your hair to be out of this world!
More Spirit Days to follow in March - stay tuned for "March Madness" coming to Cushing soon!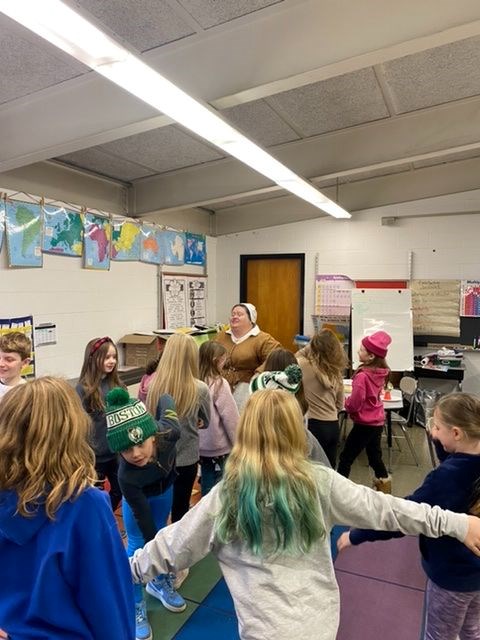 Third graders in Mrs. Mortimer's class enjoyed their visit with a guest presenter from Plimouth Patuxet in preparation for their field trip. We all enjoyed our time with a historian from the Museum, Ms. Winslow!
Internet Safety Presentation for Parents
The United States Attorney's Office is hosting a virtual Internet safety presentation entitled "Keeping Kids Safe and Secure Online: A Project Safe Childhood Presentation for Parents." This is:
A virtual presentation that will bring awareness to the dangers of the internet
Free! On Wednesday, January 18th, 6:30-7:30pm
Registration is required. For more information, please see the flyer link for more information. Internet Safety Presentation for Safety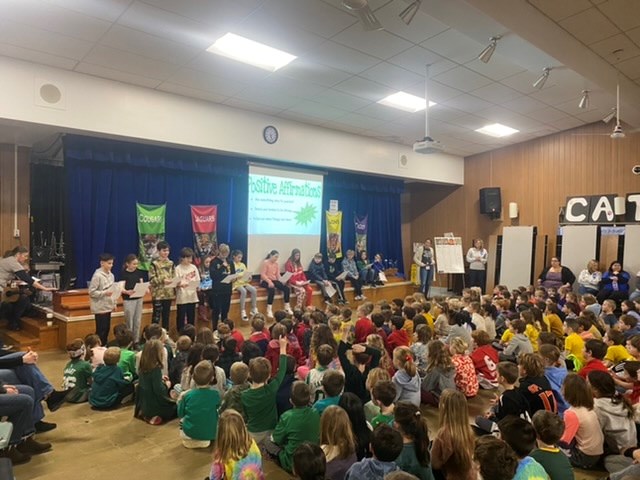 Our fifth graders did an amazing job on Friday, January 6th leading our Cat Community Meeting at 9:15 in the cafeteria, modeling for all Cushing Cats how to use positive affirmations in the new year, to help ourselves and each other! Our fifth grade leaders performed brilliantly leading our PBIS assembly - thank you to the class of 2023! Congratulations to our new house champs, the Jaguars for earning the most points!
Our fifth grade leaders shared their ideas for positive affirmations at our recent PBIS Cat House Assembly on Friday, January 6th! Awesome job Cushing class of 2023!
Parents: a reminder that we need an active, current CORI on file in our front office in order for you to participate in any upcoming field trips, planned grade level events, or for volunteering at Cushing. Please contact Mrs. Thurling in our front office if you have any questions.
Mark your calendars now for the upcoming "Fifth Graders Vs. Cushing Staff" Basketball Game on Friday night, March 10th! Doors will open at 6:00 and the game starts at 6:30 at Scituate High School! This event is something you will NOT want to miss! Thank you to our PTO for organizing and sponsoring this for us! More information will be forthcoming.
Congratulations to Mrs. Kamdar's third graders and Mrs. Monaco's kindergartners for partnering with members of our LIT team, in observance of Dr. Martin Luther King Jr Day on Monday, January 16th! Their posters and artwork truly celebrate the legacy of Dr. King, with the message of: "Be The Love That H8 Can't Stop!" Wonderful job one and all!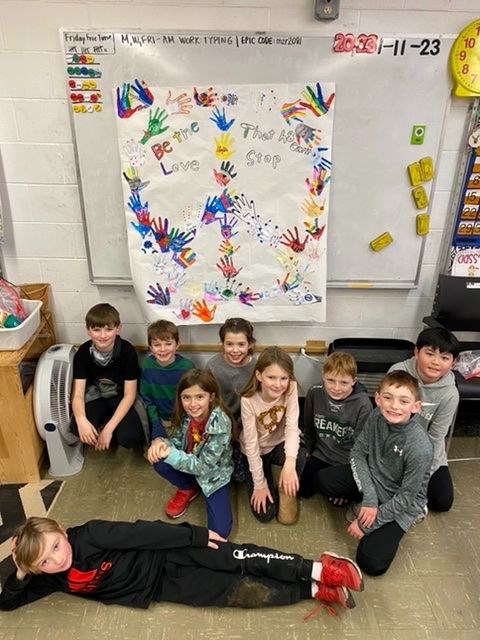 Mrs. Kamdar's third graders pose with their awesome poster, "Be The Love That H8 Cant's Stop!"
Upcoming important dates for January:
Friday, January 13th, Third Grade Field Trip to Plimouth Patuxet
Monday, January 16th: No School, Martin Luther King Jr Day
Monday, January 16th: Second Annual Dr. Martin Luther King Jr Memorial Event (Scituate High School Performing Arts Center, 1:00 PM)
Sunday, January 22nd: Chinese New Year
Thursday, January 26th: Early Release at 12:35
Visit our Cushing Cats Calendar for the most up-to-date information.
Thank you for your continued support, and I hope to see you in 2023 at Cushing!
Mr. Williams